Stars v Storm
* Stars win the toss and decide to bat
* Claire Nicholas (was Thomas) pins Stars down with her off-spin, going for 2, then a maiden, and then getting Tammy Beaumont in her third (fifth of the innings). Stars 12/1
* In the next over Freya Davies gets Lee caught at deep square - Stars 18/2, which is how they finish the powerplay.
* Spin continues to tie Stars down and Sciver perishes in the 10th over off Knight - 42/3, which moves on to 46/3 at the end of the 10th over
* Progress remains slow and Kapp is next to go for 19 in the 14th over - Stars 63/4
* Sophia Dunkley (30) and Bryony Smith (19) add 32 for the fifth wicket off 35 balls, but both perish in the last over as does Farrell, which gives Anya Shrubsole 3/22 and Stars finish on 100/7.
* Storm make the perfect start with 12 off the first over, but lose skipper Knight in the second to Kapp, swiflty followed by Wilson out for a golden duck. 12/2 becomes 12/3 as Priest is bowled by Sciver's first ball.
* In Kapp's next over Luff edges behind and Storm are in trouble at 17/4. Had Tammy Beaumont held on to a regulation catch two balls later Hennessy would have been on her way and Storm 19/5, but instead...
* Stafanie Taylor 37* and Georgia Hennessy 21 take Storm to 61 before Hennessy charges Marsh and misses.
* 61/5 becomes 67/6 as Macleod's stay is short. Taylor and Shrubsole take Storm almost there - 91/7 with 16 balls to come, and they get home and into the final with 7 balls to spare
Vipers v Storm
* Storm win the toss and not surprisingly decide to chase
* Runs come quite easily in the powerplay for Hayley Matthews (31), who looks in good touch, and Suzie Bates (21), who doesn't. Powerplay 38/0 but Storm did drop Bates
* 8th over and Stafanie Taylor gets countrywoman Matthews - 47/1
* Adams doesn't last long - stumped off Taylor (58/2), and in her next over she gets Bates too, lbw - Vipers 64/3 at halfway stage
* Danni Wyatt, dropped early by Luff, is brilliantly caught by Hennessy at long on low down and Vipers are 100/4 at the end of the 15th over
* Mignon du Preez adds a useful 31 before being caught at backward point. Vipers 117/5 with 15 balls to come.
* Last over flourish from Charlotte Edwards (17 off Shrubsole's over) takes Vipers to a competitive 145/5
* Storm lose Knight early in the powerplay and are 37/1 at the end of the fifth over, but the sixth over from Linsey Smith is muscled away for 25, with Rachel Priest reaching her 50 off just 26 balls. Storm 62/1 after first six overs. (Smith who has been ill all week leaves the field)
* Fran Wilson is bowled by a looping Brindle yorkie in the ninth over - Storm still going well on 80/2
* It looks like Priest is unstoppable, but she smashes a George halftracker out to deep midwicket where Wyatt takes a tumbling catch. She hit 72 off 36 balls. Storm 94/3 at halfway. Only need 52 off next 10 overs with Taylor and Luff at the crease
* Vipers look resigned to the defeat as the pair knock the ball around for singles and boundaries
* Just 18 runs needed off the last five overs, and then six off the last three. With just one required Taylor launches the ball over long on for 6! Storm win by 7 wickets with 2 overs to spare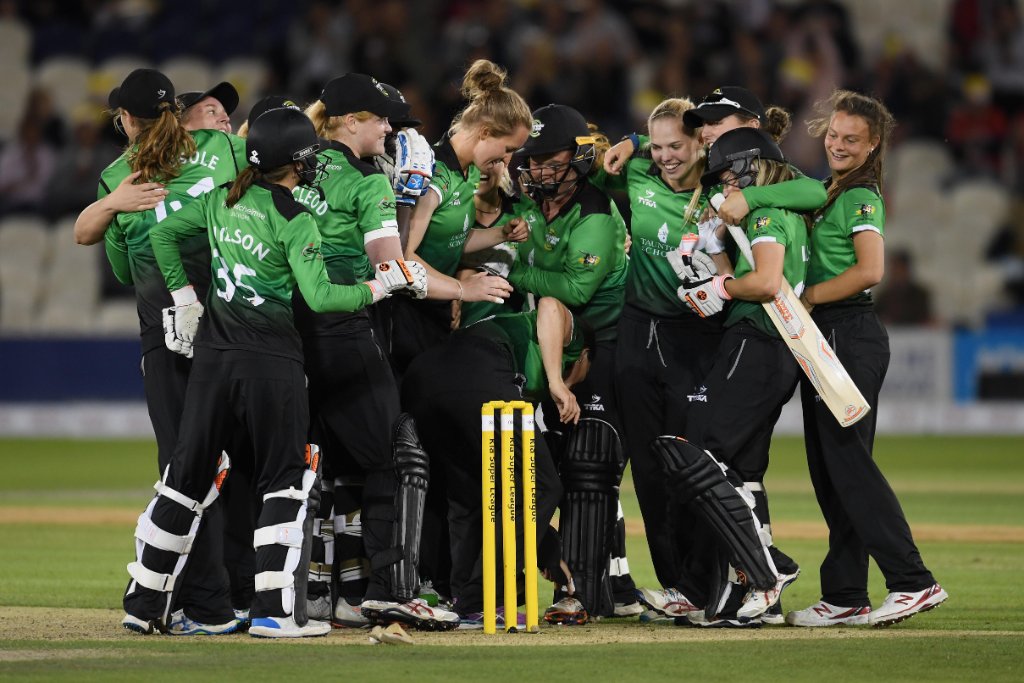 full scorecard here